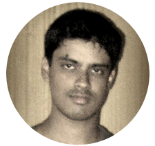 Programmer.
UX, Usability Researcher.
Geek. Gamer. Avid Food Lover.
Hi, I'm Shivin! I strive to create effective interfaces.
---
I'm a recent M.S. Human Computer Interaction graduate from Indiana University, Indianapolis (IUPUI). A UX driven developer at heart, I strive to create intuitive and minimal interfaces and exploring novel forms of interaction. Currently, I consult as a UX Researcher at a Fortune 500 pharmaceutical company, evaluating interfaces with a focus on user-centered design and offering key analytics and insights to stakeholders.